News and Updates
Subscribe to posts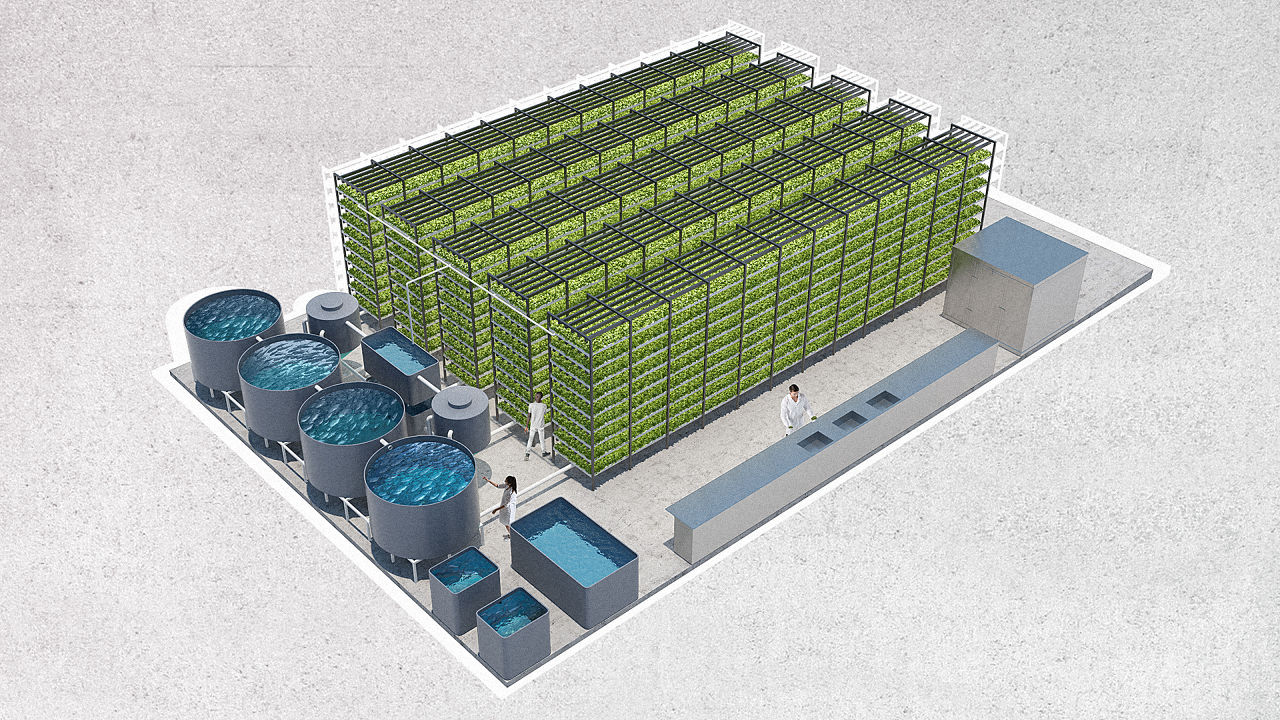 Edenworks, a Brooklyn-based urban farming startup, is not your typical indoor farm.
"We build industrial-scale ecosystems." So says Jason Green, CEO and co-founder of Edenworks, a Brooklyn-based urban farming startup. Unlike a typical indoor farm—a sterile environment, sometimes run by people in gloves or even by robots—Edenworks tries to build in as much life as possible.
In their new warehouse, set to open in New York City this summer, fish will grow in tanks, bacteria will turn the fish waste into a rich fertilizer, and plants will use that fertilizer to grow. "That's the way the Earth works—we've just turned it into kind of like a manufacturing process, but it's all based on ecology," he says.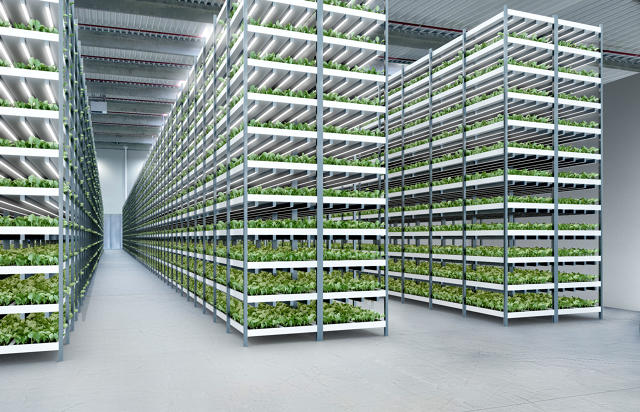 In a year, the 6,000-square-foot space will produce around 180,000 pounds of salad greens and tilapia for local grocery stores and restaurants.
The startup is one of a handful that will open large-scale urban farms this year.
The startup is one of a handful that will open large-scale urban farms this year. Nearby, in Newark, New Jersey, Aerofarms is turning a vacant steel factory into a 69,000-square-foot "aeroponic" farm. Gotham Greens just opened the world's largest rooftop greenhouse in Chicago, an addition to the others it runs in New York. FarmedHere, which also runs a large indoor farm in Chicago, plans to open a nationwide network.
Edenworks claims to have an advantage over most of its competitors: because it uses aquaponics—combining raising fish with plants—it says the salad greens it grows actually taste better. (FarmedHere also uses aquaponics; most others use hydroponics or aeroponics to pump in a mix of nutrients separately, without using fish).
"Hydroponic produce either tastes watery or it tastes off," says Green. "You'll get the abundance of one flavor, like anise, rather than balanced, which is why it has a bad rep with chefs. On the other hand, our chefs tell us that the produce that we grow is literally the best produce that they've ever eaten."
While a hydroponic system might have to pump in a new mix of nutrients on a regular basis, as the system becomes unbalanced, the aquaponics system is self-regulating, full of bacteria that digest waste and keep everything running. "All of that biological robustness builds balance, flavor, and nutrition," he says.
Chefs tell us that the produce that we grow is literally the best produce that they've ever eaten.
Edenworks has been producing a small supply of produce for early customers like Maple, a meal delivery company. They originally planned to open their new large space as a rooftop greenhouse, but because LED lights have become so cheap—dropping 85% in cost over the last four years—they now plan to use a warehouse instead, where construction will be easier.
Though the first location is in New York, they hope to quickly expand. "America is a really big place with a lot of bad salad," says Green. Most salad greens are currently shipped from California, Arizona, and Mexico, despite the demand for local produce.
"We're cost competitive with the big guys that are growing organic salad in California, Arizona, and Mexico, which is really disruptive," he says. "We want to be the scalable, distributed, local purveyor. So if there's a huge market for local salad greens in Cincinnati, the technology that we've developed—this modular aquaponic infrastructure—allows us to deploy a facility in Cincinnati and work with the regional grocers there. We can do the same thing in Milwaukee, or Boston, or Philadelphia. New York is a really exciting place to start the company, but it's becoming increasingly cramped, and there are a ton of opportunities outside New York that we'll be exploring."
We have recently taken an interest in urban agriculture and have been investigating how this form of agriculture can stimulate entrepreneurship starting with the City of Johannesburg. 
One of the most attractive form of urban agriculture is aquaponics. It is particularly relevant and suitable in cities where agriculture land is scares. 
Aquaponics is a combination of Hydroponics and aquaculture. The former is a form of agriculture that does not involve the use of soil but water and lots of chemical fertilisers, whereas aquaculture is the farming of fish in holding ponds. 
Aquaponics which combine both these is seen as an alternative to the use of chemical fertilisers within hydroponics due to the fact that crops and plants are fertilised by the waste generated by fish through a circulation process where the fish excrete waste, which in turn fertilises plants and the water from the fish tanks is cleaned by the plants during circulation. This systems has the great advantage of growing plant crops while at the same time growing fish providing a variety of nutrients from one agricultural facility.
Aquaponics produces protein through fish with minimal pollution of fresh water resources, and at the same time provides minerals and vitamins from crops. 
For more information, please check the article on this link: 
http://www.citylab.com/design/2013/03/farming-technique-will-revolutionize-way-we-eat/4880/
We also recently went on a tour of downtown JHB to view for ourselves the available roof top estate with the potential to be used for establishing aquaponics. We are still a long way to go as the success of the project, apart from funding, will need landlords to see the benefits of this initiative and partner with us for its success. 
See some of the views we experienced in downtown Johannesburg from the Top of Africa viewing deck located at the Carlton Centre.
A friend sent me this link which might help some of our followers. Check it out.
http://www.theglobeandmail.com/report-on-business/small-business/sb-growth/day-to-day/put-these-seven-books-and-apps-on-your-list-for-2015/article22250131/?from=24726493
Yesterday the World Bank released its study on Doing Business in South Africa 2015. The study compares the ease of doing businessacross all the cities of South Africa as well as other global ones. 
It conludes that "South African entrepreneurs face different regulatory hurdles depending on where they establish their businesses. This is due to varying local regulations and efficiency levels within municipalities and public agencies in charge of the 6 benchmarked areas and differences in the interpretation of nationallegislation".
The benchmarked areas are: starting a business; dealing with construction permits; getting electricity; regiatering property; enforcing contracts; and trading accross borders.
The pictures below are extracts from the book which shows the process followed by all cities in starting a business as well as recommendations to policy makers on what would improve the ease of doing business.
One of Wa Gono Entrepreneurs' function is to coach entrepreneurs so that they can achieve the results they set for themselves. I found the words in this arricle inspiring and relevant to how we should coach our partners: https://hbr.org/2015/02/you-might-be-the-reason-your-employees-arent-changing"
"If you think of your coaching conversations as interviews instead of sermons, you'll be far more successful in helping people change", says the article.
Marius Oosthuizen, programme manager: Future of Business in South Africa Project at GIBS launched a pivotal report outlining the future of three of South Africa's key economic sectors: mining, manufacturing and financial services. The report discusses South Africa's current economic trajectory and explores important areas of potential policy and strategic improvement.  
http://www.theintelligencebulletin.co.za/articles/future-watch-opinion-2092.html
Thank you for taking the time to read about our new venture. 
Wa Gono Entrepreneurs is a private social enterprise initiative that invests in small start up companies run by mainly black youth in townships and rural areas. 
We value your experience and knowledge and would love you to share your experiences with us by completing this survey>>>>>>>>>>>>.
The aim of the initiative is to assist young potential entrepreneurs to start and sustain sizable and social impact businesses. 
Your insights and time spent during this survey will help us to identify the systemic issues you believe are preventing young people from setting up and sustaining their own businesses. We are also interested to know what you think they need for them to succeed, such as: information, funding, operational support, tools/resources, aptitude, etc. Tips and suggestions are encouraged.  
The youth are the future of South Africa. However, they are desperate and slowly giving up on the future. With an idle, hopeless and disgruntled youth, South Africa will be a dangerous place to live in. 
Our aim is to work with entrepreneurs with a social conscience and those whose businesses will have a social impact. Not only will this help them to alleviate poverty and employ others, their businesses will be geared towards tackling social challenges in society.
Please feel free to contribute as much as you can. Bullet points are also welcomed if you don't have enough time for substantive inputs.
More importantly, if you know entrepreneurs who fit the profile described above as well as any organisations and companies that might be interested to partner with us, please either send us their details or send a word out to them. 
Once again, your time is valued. 
I am very excited to be involved in this initiative and feel positive that the few people who will be positively impacted will surely make a difference in our poor communities. 
We invite you to work with us and to contribute what ever is possible. As a start, do subscribe here to receive news and our call to action initiatives. >>>>>>(add link to subscribe)

The gloom and doom among mainly black young people has propelled me to start something that will hopefully make a small difference in our communities.
I am motivated to take action to reduce poverty and instill a sense of dignity among especially black young people. Poor guys like him, below, are a ticking time bomb. They will not tolerate and remain despondent for ever. Unless something is done, not just by government, to assist them to get themselves out of the poverty trap, they are going to start an uprising. Signs of this are already within us.